Assessment Report:  Biological Impairment in the Little Creek Watershed  DENR, Division of Water Quality, 2003. Carrboro signed an MOA with the NC Ecosystem Enhancement Program on May 12, 2002 because EPA determined parts of Bolin Creek were impaired.
This baseline study established the 405+acre forest along one section of Bolin Creek as an area of special significance.  Find these recommendations  in Morgan-Little Creek LWP Targeting of Management Report, August 2004.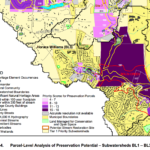 Bolin Creek Situation Assessment (WECO 2012): This study was initiated by NC DENR and the Towns of Carrboro and Chapel Hill. Professional facilitators interviewed up to a 100 participants.  The Executive Summary is over 40 pages, most of it transcripts of interviews with participants.
Key recommendations:
Create a multi organizational collaborative watershed initiative
Examine how to more holistically plan and manage water resources
Increase community outreach and engagement on the Carolina North Forest Stewardship Plan
Investigate how to raise fund for water quality protection through a stormwater utility or other mean
Convene a facilitated search for bike per routes while protecting Bolin Creek's riparian corridor
Carolina North Development Agreement
This Town of Chapel Hill page contains most all relevant information.  See particularly the Modifications request granted in 2013 describing the locations of the conservations areas.  Final Development Agreement was based on this excellent Biohabitats, Inc. Study.
Bolin Creek is listed on the EPA's 303(d) list of impaired streams. The Town of Carrboro and Chapel Hill have received two Section 319 grants from the Environmental Protection Agency to develop a Bolin Creek Watershed Restoration Plan.   These Section 319 grants come through the North Carolina State Division of Water Quality to fund community water quality projects.
Bolin Creek Watershed: Geomorphic Analysis, Earthtech, 2007
Earth Tech provided services to the Town of Carrboro during the spring and summer of 2007 to evaluate the stability of the entire Bolin Creek Watershed. This project was performed as the first step of the Towns of Carrboro and Chapel Hill as partners in the Bolin Creek Watershed Restoration Team (BCWRT) to rehabilitate the watershed and to one day have its biological integrity improve and to the extent that Bolin Creek can be removed from the Federal (303d) list of impaired streams.
Catena.Bolin Creek Greenway Master Plan Review  This report makes that case that the Bolin Creek Greenway Master Plan did not meet its number one objective.
Bolin Creek Watershed Situation Assessment  
The BCWRT identified one of their main challenges to long‐term restoration as difficulty in coordinating and leveraging efforts with the many active and in terested citizens in thewatershed. The BCWRT subcontracted part of a current EPA grant to Watershed Education for Communities and Officials (WECO), a NC Cooperative Extension program, to conduct a situation assessment in the Bolin Creek watershed. The purpose is to better understand the interests of watershed stakeholders and organizations, to identify opportunities to engage stakeholders in Bolin Creek restoration while meeting multiple interests, and to determine how stakeholders would like to participate in restoration efforts.
Aaedan Report, funded by the U.S. Forest Service that looked at the neighborhoods of Bolin Forest and Quarterpath Trace and reported on what is needed for stewardship of this urban forest.
The Aedan report, in particularly, notes on page 15 as a threat to this urban forest: "Activities such as construction of new trails or impervious surfaces have the potential to cause significant erosion and sediment run-off especially around highly erosion-prone soils with localized areas of steep slope and shallow soils located along Bolin Creek." As a result, this study recommends to maintain water quality to "Minimize footpaths within stream corridors."
Letter to BOA, from Stream Ecologist Michael Paul
Future of Upper Bolin Creek Corridor