Our creeks need your help! Rainwater is running off roofs, roads, driveways, lawns and packed soils, and flowing too quickly into the creek! These urban surfaces have dramatically reduced the ability of rain water to sink into the ground and regenerate  ground water supplies. Instead, rain is bringing a large, fast burst of water to the creek which is scouring banks and degrading animal habitat. This runoff also often carries sediment and fertilizers, leading to water quality problems with our drinking water supply reservoir.  You may not have a creek in your yard, but the rainwater that flows off your yard continues on, perhaps into the street or storm sewer, and ends up in a creek near you.  That creek feeds a larger one, which flows into a drinking water supply reservoir.
Building a rain garden is one way you can help promote healthy creeks which sustain invertebrates, fish, frogs, birds and mammals – the entire chain of life.  A rain garden filters rain water and allows it to slowly sink into the ground.  It is a shallow-shaped depression that is intentionally designed to capture rainwater and to become an attractive feature to your yard.  The garden is filled with native plants that are both flood and drought tolerant, require no fertilizer, benefit water quality and wildlife, and become an attractive feature of the garden.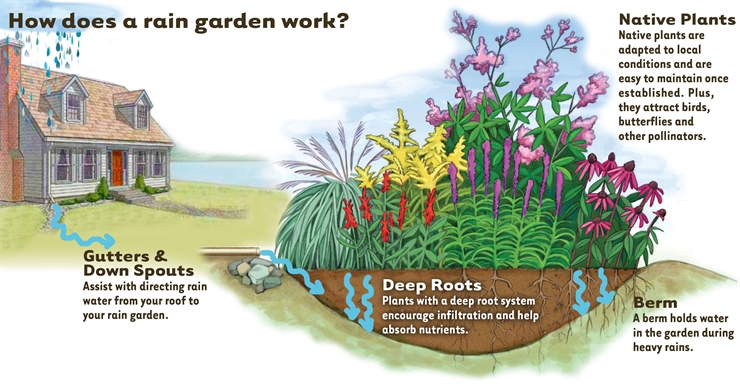 Rain Garden Homeowners' Initiative                                                                          Build your own rain garden!
We will be holding rain garden workshops in the spring of 2014a and 2015.  By teaming up with local homeowners, we hope to spark the creation of an abundance of rain gardens in Chapel Hill and Carrboro to decrease stormwater runoff, improve water quality, protect land, and beautify our towns.
This program will give homeowners the tools they need to implement rain gardens at home by carrying out a series of hands-on rain workshops in Chapel Hill and Carrboro. In the workshops, homeowners will learn how to build a rain garden and implement measures to protect our local streams. By participating in the workshop, a homeowner can also earn assistance toward building their own a rain garden in their own yard! The initiative begins in the Bolin Forest neighborhood and will eventually expand to include other areas in Carrboro and Chapel Hill. Ultimately, we envision hundreds of rain gardens across Carrboro and Chapel Hill, reducing the serious runoff and erosion problems that homeowners face.
The workshop series will give homeowner's the knowledge and skills to construct their own rain garden.  Following the workshop, participants will have the option of receiving additional supplies and assistance from FOBC.
Our spring workshop series was a huge success!  Check out a video made by The People's Channel to see what we did and learn more about the project!  If you would like to be added to the waiting list for the next workshop series or to receive information, please sign up here!
If you have any questions or would like to become a co-sponsoring organization for this initiative, please email FOBC.rain.gardens@gmail.com for more details.
MAKE A TAX DEDUCTIBLE DONATION TO THIS PROJECT!

Rain Garden Resources
The North Carolina Cooperative Extension has a fabulous Backyard Rain Garden website full of information about how to build and maintain a rain garden.  They include photos, plant suggestions as well as a step-by-step guide on how to plan and install the garden! Once you've gotten suggestions from their website on what plants to use, you can visit the Cooperative Extension's plant page to get more information and pictures for specific plants.
The town of Chapel Hill's Stormwater Management Division also created a useful brochure on how to install a rain garden.
There is a fabulous book called Rain Gardening in the South: Ecologically Designed Gardens for Drought, Deluge and Everything in Between by Helen Kraus and Anne Spafford available from Eno Publishers.  This book is excellent because it provides a step-by-step guide to installing a rain garden in North Carolina.  The authors were also very generous in giving us permission to share their lists of rain garden plants and design layouts during our workshops.
If you feel like you want a little extra help to design and install a rain garden, you can find a rain garden professional that has been certified through the NC cooperative extension's Backyard Rain Garden Program.