On Friday, October 29th five 8th grade classes from McDougle Middle School met outdoors all period. Instead of inside learning, they learned outdoors with North Carolina State experts and Friends of Bolin Creek volunteers. Each class rotated through three learning stations.
At the first station Erin Martin, Friends of Bolin Creek educator,  taught students how impervious surfaces cause rain water to take pollutants into creeks. Students learned the concepts by designing their own model houses on a piece of turf and measuring the amount of water draining from the site when smaller areas are covered by impervious surfaces.
In the second station, students learned from NC State expert Mitch Woodward how cisterns can help capture rain water on site.  Students calculated how much rainwater could be collected off the school gym roof and how much would be captured by the cistern. Students prepared the site and the last class completed the installation.  The cistern water will be used to water the rain garden and other plantings at the school.
At the third site, students learned from NC State expert Zan Price how rain gardens can retain rain water on site and filter pollutants to keep them out of nearby streams.  Students prepared the bed in the early classes.  At the last class of the day Randee Haven O'Donnell helps students plant native species.
Then, Principal Debra Scott helped the Paperhand Puppet owl and frog to plant in the rain garden.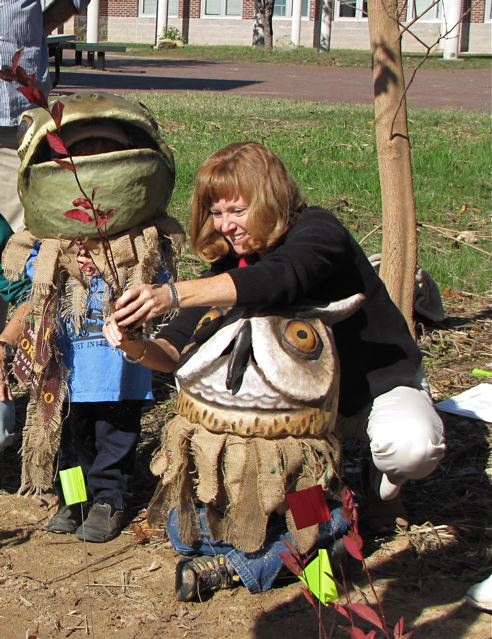 All day each science class planted a section of the rain garden.  At the last period of the day, the class celebrated the completion of the garden.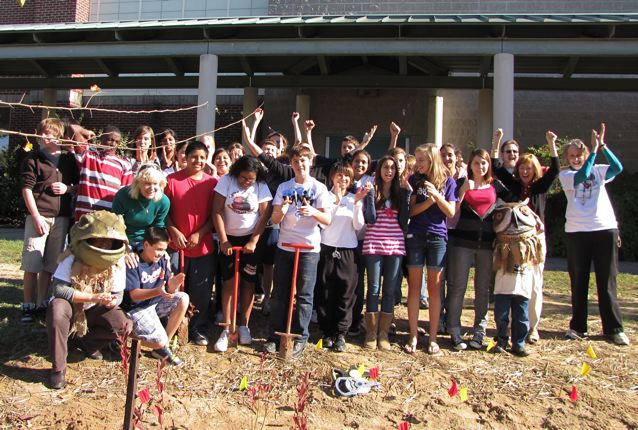 Read more about rain gardens or maybe even build one.